SENIOR'S PAGE
Rural Transit / Star Exemption / Meals On Wheels / Brant-Farnham Seniors Group
STAR EXEMPTION
Seniors are eligible for a reduced rate on their property tax. To determine your eligibility you can contact the Assessor's Office at 716-549-4423
**************************************************************
COMMUNITY CONCERN OF WNY, INC
6722 ERIE RD
DERBY, NY 14047
947-5025

**************************************************************
HOUSE CLEANING FOR SENIORS
Community Concern offers light housekeeping, errands and companionship.
There is a fee for this service, but it is based on your income.
Please call 947-5025 and ask for Senior Services for more information

***************************************************************
DISCOUNTS FOR SENIORS
Click on this link to see all kinds of discounts for Restaurants, Airfares, Hotels etc.
---
BRANT/FARNHAM SENIOR CITIZENS ORGANIZATION:

This organization was developed in the 1960's to provide seniors with low cost monthly entertainment. To be a member of the Seniors, you must be at least 50 years of age and a Town of Brant Member. All trips include bus fare and other expenses such as shows and dinner, unless otherwise noted (MUST BE PRE-PAID). The only other out of pocket expenses would be shopping and souvenirs. The trips are first offered to local senior members and after one week, are offered to non-members, and based on availability. Prices differ for members vs. non-members. To see if you are eligible contact Marge Pero or Sharon Catalano.

Our meetings begin with a pizza and salad lunch - cost is $3.00 per person We also hold a drawing each meeting. The cost is 5 tickets for $1.00. Four drawings are held. After lunch, we hold our meetings starting with the Pledge to the Flag.
Besides our monthly meetings, we take frequent trips. If you are a Town of Brant or Village of Farnham resident and are at least 50 years of age, you are eligable to receive the discounted fair. You don't have to be a resident to go on our trips. have a summer picnic, hold a bake sale at Brantfest, have guest speakers at our meetings and have a Christmas lunch. For Trip info contact Info: Marge Pero - 716-549-3103 or Sharon Catalano - 716-337-3710
Meetings are held every 1st Wednesday of each month at noon
Place: Brant Senior Building
1000 Brant Farnham Rd
Brant NY Time: Noon

Yearly Dues - $5.00 per person


2017 SENIOR MEETINGS:
January 4th, February 1st, March 1st, April 5th, May 3rd, June 7th, July 5th, August 2nd, September 6th, October 4th, November 1st, December 6th

PLANNED TRIPS FOR 2017
Tuesday, April 18 – Cost $49.00 per person
Seneca Niagara Casino to see The Crystals..."Then He Kissed Me" Show
Depart at 10:15am
Arrive at 11:45am
Show: starts at 2pm and ends at 3pm
Depart at 5:45pm
Arrive Home around 6:45pm
Trip includes Bus, Buffet, Show and $20 free play
Friday, May 26 – Cost $74.00 per person
Kleinhan's Music Hall to hear "Swingin' Stars & Stripes"
Depart at 8am
Return at 4pm
Trip includes Bus, show, family style lunch at Chef's, weather permitting will be a stop at Canalside.
Lunch includes: Chef Salad, Minestrone Soup, Rigatoni, Fresh Baked Rolls, Real Whipped Potatoes, Vegetable Medley, Breaded Pork Chops with Applesauce, Roast Chicken, Coffee/Tea and Orange Sherbet.
Wednesday, June 14 – Cost $45.00 per person
Station House, Erie PA to see "Sex Please, We're Sixty"
Depart at 10am
Return at 7:30pm
Trip includes: Bus, lunch, play, trip to casino or to Millcreek Mall

Cost: $35.00 for Brant / Farnham Senior Residents. Cost for non-members will be posted with each trip
Contact :Marge Pero - 716-549-3103 or Sharon Catalano - 716-337-3710
~~~~~~~~~~~~~~~~~~~~~~~~~~~~~~~~~~~~~~~~~~~~~~~~~~~~~~~~~~~~~~~~~~~~~~~~~~~~~~~~~~~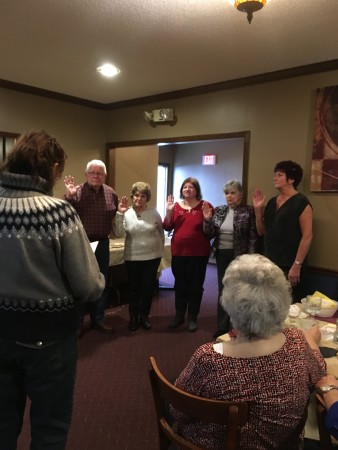 OUR 2017 OFFICERS
President - Elmer McSkimming
Vice-President - Sharon Catalano
Secretary - Lynda Ostrowski
Asst. Secretary – Mary Ann Wargula
Treasurer - Jeanette Mirusso
Asst. Treasurer – Marge Pero

Appointed Officers
Supply Sargent - Janice Ross
Assistant Supply Sargent – Marlene McSkimming
Sunshine Club - Theresa Quagliana
Travel Committee - Marge Pero & Sharon Catalano
Sergeant At Arms - Phyllis Muscato

MINUTES OF THE LAST MEETING

February 1, 2017 Unapproved Minutes
January 4, 2017 Unapproved Minutes
The Town of Brant is an equal opportunity proveder, and employer. To file a complaint of discrimination, write:
USDA, Director, Office of Civil Rights, 1400 Independence Avenue, S.W., Washington, D.C. 20250-9410,
or call (800) 795-3272 (voice) or (202) 720-6382 (TDD)